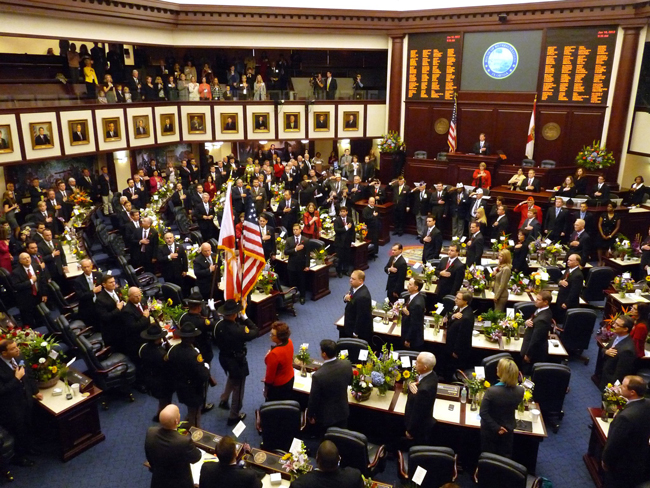 The 60 day 2014 Florida legislative session ended Friday, May 2.
"Florida lawmakers supported Governor Scott's priorities by passing tax cuts and increased spending on education," said Ellsworth Buck, Vice President of GreatFlorida Insurance.
Below is a list of some of the session's successes and flops.
PASSED
Floridians can look forward to more money in their pockets thanks to new tax cuts. Tax breaks will be available on school supplies, hurricane supplies, youth bike helmets, medicinal pet food and college meal plans.
The GreatForida Insurance blog mentioned earlier this year, the expansion of Florida's private flood insurance market by allowing homeowners to buy smaller policies and find options other than the National Flood Insurance Program.
After some horrible accidents recently in Florida, commercial parasailing operators must have a minimum of $1 – $2 million of liability insurance and are banned from taking customers out in adverse weather conditions.
Move over slow poke, the speed limit has been raised from 70 to 75 on interstates and highways and from 60 to 65 on rural roadways.
In an effort to keep children in vehicles safer, all children 5 years old and under must ride in a car seat or booster seat.
Investors find safety, nursing home investors will be protected from nursing home lawsuits in cases of abuse of neglect.
FAILED
The internet connected doctor patient relationship could be strained with the failure of a requirement for insurance companies to reimburse healthcare providers for virtual health care.
The creation of a statewide Medicaid, prepaid dental health program
Those unable to afford health insurance did not get any breaks this session. Health insurance to poor Floridians using federal Medicaid expansion money under The Affordable Care Act was unsuccessful.
Efforts to strengthen the current texting while driving ban fell flat. Law enforcement can only stop violators as a secondary not a primary offense.
Repeal to use red- light cameras at intersections, so smile, they are still watching.
Determined lawmakers, will no doubt make their case again as some of these issues will come up again in a future Florida legislative session.  GreatFlorida Insurance will continue to highlight the issues that affect you.
GreatFlorida Insurance has been serving Florida since 1991. We specialize in health, auto, homeowner's, boat, motorcycle, business, renters and umbrella insurance. Our knowledgeable agents have 110 offices located throughout Florida. Reliability is a must for our customers. We provide 24-hour service, 7 days a week, 365 days a year. The right insurance coverage can give your clients peace of mind, knowing their investment is protected.
Call 888-478-7801 to talk to a local agent or go online to www.greatflorida.com for a free quote.