This year's Florida legislative session was filled with hostility and drama. The standard 60-day session ended three days early due to contention between the House and Senate on Medicaid Expansion. Without a state budget passed, a Special Session was called June 1 -20. An early end to the session, along with a stalemate, doomed many bills. This year there were many proposal casualties.
PASSED – NEW LAWS
Ticket quotas cannot be used to generate revenue for police departments.
States, counties and cities can only buy American made flags- a patriotic move
Attention craft beer lovers, 64 ounces of beer, known as "growlers" can finally be sold in Florida.
Drones cannot take pictures on private property; violators will not be arrested but can be sued.
Gay people can adopt children.
Florida school districts can start the school year as early as August 10.
Scale back testing in public schools
Tax cuts-about $400 million in tax cuts with sales tax holidays and a tax cut to cable, TV and cellphone services.
CASUALTIES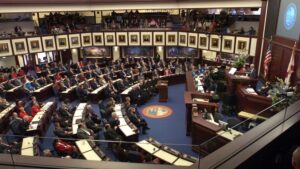 Comprehensive state water policy
Medicaid Expansion
Prison Reform
Texting while driving considered a primary offense
Abolishment of the death penalty
Equal pay for women on state contracts
Education– school choice, eliminating sales tax on student textbooks, mandatory uniforms for K-8, a minimum $50,000 salary for new teachers, concealed weapons to be carried by designated employees on school property in K-12 schools, ban on concealed weapons on college campuses
Undocumented immigrants to obtain a driver's license.
Tupelo honey designated as the official state honey
Expansion of gambling- a victory for Disney and other's wanting to maintain a family friendly state environment
Legalization of medical marijuana
GreatFlorida Insurance has been serving Florida since 1991. Dedicated to helping Floridians make informed decisions about their insurance, we offer professional service and affordable insurance. GreatFlorida Insurance specializes in:  auto insurance, homeowner's insurance, boat insurance, motorcycle insurance, commercial insurance, renters insurance, health insurance and umbrella insurance.
Our knowledgeable agents have 115 offices located throughout Florida. Reliability is a must for our customers. We provide 24-hour service, 7 days a week, 365 days a year. The right insurance coverage can give your clients peace of mind, knowing their investment is protected.
Call 888-478-7801 to talk to a local agent or go online to www.greatflorida.com for a free quote.
---