You are having difficulty breathing, you are experiencing agonizing pain in your side, or your baby is howling and pulling at his ear-this is not when you want to try and find a doctor. A trip to the emergency room can cost you a significant amount of time and money. Your local walk-in clinic is closed. You need a personal physician who can help.
"Whether you are new to town, are dealing with a new health insurance policy, have a new baby or are just ready for a second opinion on your well-being, selecting a doctor can be intimidating," says Ellsworth Buck, Vice President of Great Florida Insurance, Florida's largest independent healthcare insurance agency.
Generally speaking, word of mouth is the most common method for choosing a doctor. Ask around and see who the people in your life recommend. Review sites and online tools, such as the "doctor finder," provided by the American Medical Association, can help in your search for a referral.
If you have healthcare insurance check to see what doctors are "in-network." These healthcare providers will have discounted rates so you pay less out of pocket.
Likewise, some logistical information to think about includes:
Where is the doctor's office located?
Do you want a doctor close to home or close to your office?
What are their office hours and what days are they open?
What hospital are they associated with?
Can you get a last minute appointment if you are sick?
Is someone accessible in you have an important medical question after office hours?
Do they communicate online or via email?  
What is their primary language?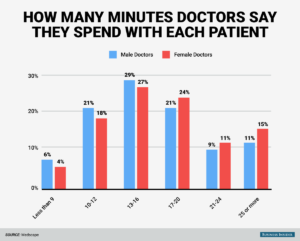 "When looking for a doctor it is important to find a professional who is caring and communicates well," says Buck, of Great Florida Insurance, Florida's top independent healthcare insurance agency. "Competency is also a crucial variable."
A caring doctor should take the time to listen and ask questions. They will talk to you in a manner that you understand. But, do not let their bedside manner replace the importance of skill and ability. Competency is paramount. Check your potential physician's education and see if they are board certified.
There are several types of physicians that are considered primary care physicians. Blue Cross Blue Shield helps to define the difference so you can choose the best for you and your family.
Pediatrician– Provides health, physical, behavior and mental health care for children.
Family Practice– A family practice physician treats patients of all ages. They treat a wide variety of conditions as well as some that would normally require a specialist.
Internal Medicine– An internal medicine doctor cares for adults and specializes in prevention, diagnosis and management of disease and chronic conditions.
General Practitioner– These physicians treat any age or gender. You can also find specialty doctors in this category, such as osteopaths. Osteopath doctors specialize in the study of the musculoskeletal system.
Looking for a doctor when you are experiencing a health crisis is not a good plan, being proactive will pay off.
GreatFlorida Insurance can help you select the right healthcare insurance for you and your family. Our partnership with Blue Cross Blue Shield of Florida offers our customers top quality healthcare services, from a large selection of healthcare providers in Florida.