It's beginning to look a lot like Christmas. Unfortunately, many of our favorite holiday endeavors come with risks. Just think of the movie National Lampoons Christmas Vacation. However, that is why we have insurance, for protection and peace of mind.
"Having the proper insurance will minimize the financial damage caused by most accidents," says Ellsworth Buck, Vice President of GreatFlorida Insurance.
Fires
Baking sweets, lighting candles and decorating Christmas trees are traditions we enjoy to usher in the holidays. Unfortunately, they are also the biggest contributors to fires according to the National Fire Protection Association, costing millions annually in property damage.
We would never suggest not participating in those activities, just use caution. Standard homeowners insurance policies cover damage due to fire.
"Make sure your policy limits are enough to cover the full cost of rebuilding your home and replacing your belongings at current prices," says Ellsworth Buck, Vice President of GreatFlorida Insurance.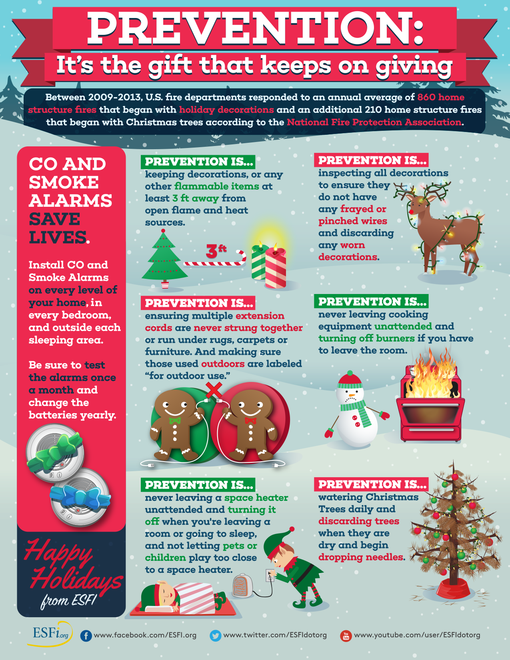 Also, create a home inventory with photos and price estimates. This is easily done through most insurance company apps.
Electrical hazards and accidents
Several media outlets are reporting families are decorating for the holidays earlier than ever, to offset the gloom of 2020. As you pull out ladders, staple guns, and electrical cords, keep in mind, the risk they pose. Electrical hazards are up 22% during the holidays with the median insurance claim over $22,000.
The U.S. Fire Administration recommends the following. Make sure all outdoor decorations are properly anchored. Use lights and extension cords designated for outdoor use. Inspect your lights before putting them up. Throw out any light strands with frayed or pinched wires.  Also, don't overload outlets when creating your spectacular Christmas display.
Theft
There are always grinches out there who want to steal your holiday joy, by taking your stuff. COVID could change things for thieves this year. With more people home, porch pirates will have fewer opportunities to go undetected by you or your neighbors. And, hopefully the popularity of home security cameras will catch would be robbers in the act and cause them to walk away. Any stolen packages are covered by home insurance, condo insurance or renters insurance.
Keeping gifts in the car, is also a temptation for criminals. If you have gifts in your car be sure to keep the car locked. Also, store them out of sight. Parking in a lit area is a deterrent to getting broken into. If your belongings are taken from your car it is covered by your auto insurance.
Identity Theft
The holidays combined with COVID, are sure to increase online shopping. Many homeowners insurance policies offer identity theft coverage. If not, it can be included as an optional add-on. To prevent cyber theft, use a credit card instead of a debit card, shop with trusted online retailers and review your bank or credit card statement often, do not wait until after the holidays.
GreatFlorida Insurance provides all the coverage you need on homeowner's insurance as well as renter's insurance, condo insurance and auto insurance. Contact us today.