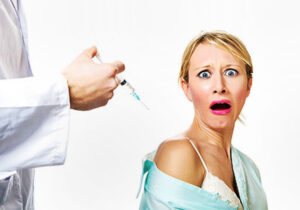 Flu season has arrived. The United States Centers for Disease Control and Prevention, CDC has already reported sporadic flu outbreaks in Florida. The Florida Department of Health estimates 15 to 40 percent of the population suffers from influenza every year.
More people tested positive for flu last year than the previous year in part, because last year's flu shot was only 13 percent effective. According to the CDC, the vaccine did not fully protect against a mutated strain that developed after flu season started.
The 2015-2016 flu shot will include two additional strains that were not included last year's vaccine and it is reported to be 50 to 60 percent effective.  The shot will cover two A viruses and one B virus.
Many people have excuses as to why they do not get vaccinated. Below GreatFlorida Insurance helps to dispel some common myths regarding the flu shot to encourage people to get vaccinated.
The flu shot gives you the flu– The virus in the flu shot is inactive, so you cannot get the flu from the flu shot. Minor side effects include soreness, redness or swelling at the injection point. A low grade fever and aches may occur.
You don't need the flu shot if you got it last year-You need a new flu shot every flu season because flu viruses are constantly changing and there are different circulating strains from year to year being treated by the vaccine.
Flu vaccines contain dangerous ingredients-Flu vaccine ingredients are safe with the exception of those with allergies to the specific ingredients in the shot, such as Thimerosal and gelatin.  Those with allergies to eggs can receive a vaccination developed with no trace of eggs. The CDC works closely with the U.S. Food and Drug Administration, (FDA) to maintain high quality standards.
Getting the flu will just strengthen my immune system-Some people who get the flu can experience serious complications. Some can be infected with the flu virus without experiencing any symptoms and unknowingly spread it to others putting them at risk.
The flu shot cannot offer 100 percent protection from the flu. The CDC recommends everyone over 6 months of age receive a flu shot unless there is a medical reason not to such as those who have suffered Guillain-Barre Syndrome or GBS, consult with your medical doctor first.
The flu shot is covered at no cost to the patient by most health insurance plans, including Medicare Part B. The flu vaccine is convenient to get and available at many pharmacies such as CVS and Walgreens, walk-in clinics, public health facilities and the doctor's office. It takes two weeks for your immunity to build up after getting a flu shot so the CDC recommends getting vaccinated sooner rather than later.
Alternatives to the traditional flu shot:
High dose vaccine for those 65 and older, it contains four times the antigens of the regular flu shot creating a stronger immune response for those at greater risk for developing severe flu related illness.
Flublok is a vaccine for those with an allergy to eggs but might need to be requested in advanced.
Intradermal is ideal for adults 18- 64, who have a fear of needles. According to WebMD, the needle is smaller and only penetrates the top layer of skin instead going down to the muscle.
Nasal flu mist is a live virus sprayed into the nose and is painless. It is approved for use in healthy people 2-49 years of age.
GreatFlorida Insurance is committed to helping Floridians stay healthy. Our experienced agents can offer you and your family quality health insurance policies to fit your needs while staying within your budget. Call us at 888-478-7801 or go online to www.greatflorida.com for a free quote today.