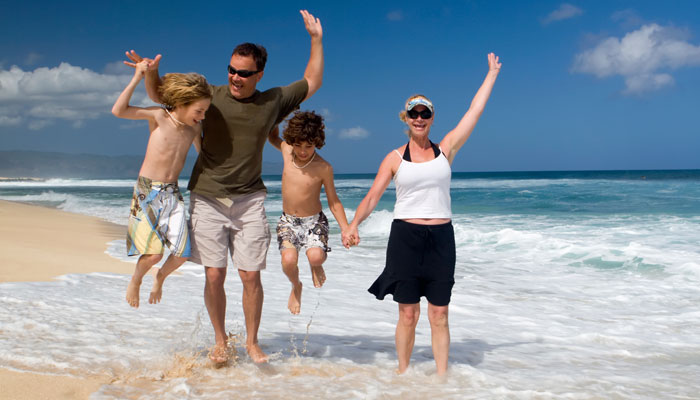 Before heading off on vacation this summer, add "review current insurance policies," to your to do list. This will give you the security that your family is protected while traveling and your property and possessions are secured while you are away.
"Often times the trip coverage someone needs is available in a homeowners, renters or auto policy," says Ellsworth Buck, Vice President of GreatFlorida Insurance. "It is wise to check through your current policy to make sure you are aware of what you have currently covered and what you might want to supplement to prepare for a trip."
Home is often miles away from your mind while enjoying a break. Retaining the proper insurance coverage for your home will help contribute to your peace of mind. Check with your agent or review your policy to make sure your renters or homeowners insurance covers your possessions in the event of a break-in.
With this being hurricane season, prepare for the possibility of storms while you are away.
Check that your homeowners and auto insurance coverage is adequate to protect property from falling limbs or flood.
Liability should be an interest while you are away. You are liable for any injuries or damage on your property. If someone watching your home injures themselves while there or causes damage to your property, you are liable for legal expenses and medical bills.
The same is true if your friends, neighbors or family utilize your swimming pool or trampoline while you are gone. Talk to your agent about the necessity of an umbrella insurance policy.
Benefits are generally available while traveling through your current insurance policies. Your homeowners, renters and car insurance often provide protection even while you are away. Some homeowners coverage protects your belongings if they are stolen or misplaced on a plane, in a hotel or even a rental car.
A homeowners or renters insurance policy generally covers lost baggage.
If taking a road trip you not only want to prepare your car but make sure everyone who drives is insured and review coverage for available towing. A comprehensive auto policy will cover a rental car, so purchasing additional coverage is often unnecessary.
If your travels are taking you overseas you might want to purchase medical traveler insurance. Before doing so, check to see if there a medical facility or hospital in the area you are visiting. There is a good chance a preexisting condition may not be covered.
Discuss your concerns with your insurance agent and they can help you if you want to supplement your current health care policy while traveling.
Travel insurance is best for expensive pre-paid vacations such as group tours or a cruise. It covers trip cancellations, medical expenses, evacuations, loss, delays and provides 24/7 phone assistance. Discuss options with your agent.
You might currently have all the insurance you need for a trip between your homeowners insurance, health insurance and auto insurance. Your insurance agent can help evaluate your current policies and potential needs while you are away.
The experienced staff at GreatFlorida Insurance can help you determine if additional trip insurance or medical insurance is necessary. Our agents are available throughout Florida to help you understand what can be confusing insurance terms to make sure you get the insurance policy you need for an affordable price.
Simply call 1-888-478-7801 or complete our free online quote request form at GreatFlorida.com.