The tranquility of being on the water, combined with fresh air and sunshine are enjoyable benefits that come with owning watercraft.  An abundance of shoreline, rivers and lakes right outside your door in Florida, make owning a boat idyllic. So what's the hold up? If you are in the market for a boat, The National Marine Manufacturers Association offers tips on buying the right boat.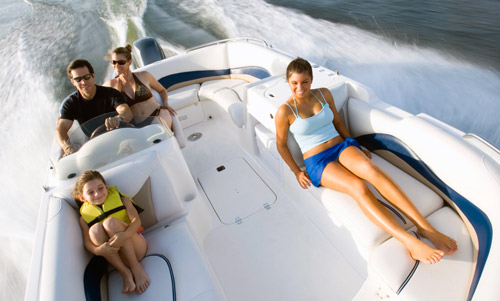 Purpose– What activities do you plan to enjoy on your boat, fishing, water sports, cruising, sailing or are you interested in a personal watercraft, PWC?
Capacity– How many passengers do you plan to have in your boat?
Size– Do you have a preference in the length of your boat?
Propulsion– Do you want your boat to have an engine, sails or will you utilize man power?
Transporting– Will you keep your boat at a marina, or do you plan to transport it with a trailer?
Additional recommendations include: buying your vessel from a certified dealer and examine warranties.
Like any major purchase, enter the decision making process armed with a financial plan. Purchasing the boat, is just the beginning. Bloomberg Business highlights some  supplementary expenses such as maintenance fees, the purchasing of safety gear, electronic equipment – a GPS, chart plotter or radio, storage fees, dockage or slip fees, gas and oil. Title and registration are required; thankfully, Florida does not charge property taxes on boats.
Another expense is boat insurance. While Florida, like most states, does not require you to get boat insurance before you register your vessel, there are many risks associated with owning a boat. If you have a loan on the boat or if you use the boat for collateral on a loan, your lender may require you to have insurance.  Also, certain marinas and harbors require insurance in order for you to dock your boat.
"Many homeowners, mistakenly assume that their boat is covered under their homeowner's insurance," said Ellsworth Buck, Vice President of GreatFlorida Insurance. "Depending on your homeowner's policy, you might have limited coverage on a small vessel on your property. Boat insurance is highly recommended to protect you, your passengers and the boat."
When selecting boat insurance, make sure to get the appropriate coverage and do not pay for insurance you do not need. Independent agents at GreatFlorida Insurance will help you find the right insurance within your budget by checking out several insurance companies and comparing prices.
GreatFlorida insurance agents can explain the difference between liability, collision, comprehensive and medical coverage.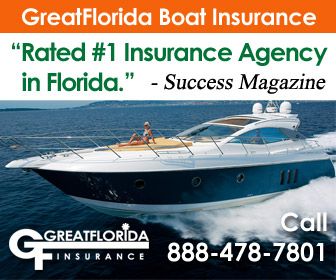 Liability– This will cover bodily injury and property damage in an accident where you are at fault.
Comprehensive and Collision-Collision covers damage to a boat involved in a collision. Comprehensive coverage protects your  boat if it is stolen, damaged by a fire or vandalized. Damage can also happen out of the water or while towing a boat, physical damage or comprehensive and collision will cover any out of water incidents.
Uninsured Coverage– This will cover costs for damage and injuries if you are involved in a collision with a boat that does not have insurance.
Medical Coverage– Will cover costs related to injuries suffered in a boat accident. Check your health insurance first, it could provide the adequate coverage you need.
Additional coverage is also available for fishing equipment and other boat related personal property you want to insure.
GreatFlorida Insurance covers a wide variety of boats including yachts, a bow rider, center console, cuddy cabin, walk-around, ski boat, pontoon, jet boats, sailboats, bass boats, commercial vessels and P&I, private pleasure craft from $50,000 – $200,000,000, cargo commercial fishing and charter international risks. They also cover personal watercraft such as a WaveRunner, Jet Ski or Sea Doo.