Each year many Florida drivers commit a transgression resulting in the loss of their driver's license. Thankfully, forgiveness is extended by the state in the form of an SR22 or FR44. To help get their license get reinstated and put drivers back on the road, GreatFlorida Insurance has launched a new website, SR22.greatflorida.com.
The new website provides information specific for Florida drivers who find themselves in need of an SR22 or an FR44. "Our insurance company has been providing  auto insurance to high risk drivers in Florida for years, despite the reluctance of many insurance companies to deal with these challenging circumstances. We feel the new website will share with the public our services and help by providing accurate information that is exclusive to Florida motorists," said Ellsworth Buck, Vice President of GreatFlorida Insurance.
A popular misconception about an SR22 and FR44, they are not insurance but actually a certificate of financial responsibility. It informs the state that you have purchased the appropriate insurance limits required to drive. The certificate is filed by your insurance agent electronically directly to the state. This alerts the state that you are maintaining continuous insurance coverage.
An SR22 can be mandated by the courts for a number of reasons including: excessive tickets and previously driving without insurance. Florida is one of the few states that necessitates an FR44. An FR44 is mandatory for those who have committed a DUI. While they detail new and possibly higher insurance limits, neither of the certificates place restrictions on your driver's license.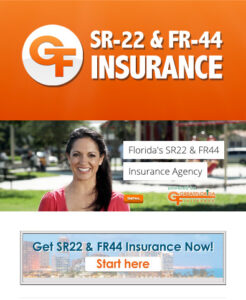 For more information on obtaining an SR22 or FR44, you can visit the new website, http://sr22.greatflorida.com/, where you will find answers to many of your questions.
GreatFlorida Insurance is insurance for Floridians by Floridians. Since 1991, we have faithfully served Florida residents and their insurance needs. Unlike many insurance companies in the state, we are a network of independent, franchised insurance agents located in communities across Florida. This means we are not bound to one company to fulfill your insurance requirements, but we can shop around to find the best coverage and price for you. This flexibility allows GreatFlorida Insurance agents to craft a custom insurance policy specific for your needs, not just offer a standard insurance policy.
GreatFlorida Insurance provides homeowners insurance, auto insurance, health insurance, boat insurance, motorcycle insurance, renters insurance, commercial auto insurance and umbrella insurance. We are dedicated to providing our customers professional, prompt and courteous service. We work with reputable insurance carriers across the nation such as: Travelers, Progressive, Nationwide and more.
It is savvy to make informed decisions about your insurance. GreatFlorida agents are there to guide you every step of the way by giving you options and simplifying the process of buying insurance. Contact us online or give us a call today.