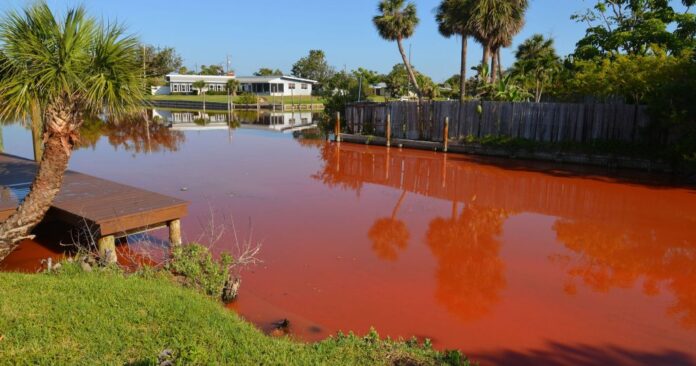 "Fishing, tourism and public health are vulnerable to algae this year in Florida", observes Ellsworth Buck, Vice President of GreatFlorida Insurance, Florida's leading independent boat insurance company.
Red Tide
A patchy bloom of the Florida red tide organism, Karenia brevis, persists in Southwest Florida. You might recognize red tide on the beach. It looks like thick mats of smelly, brown, seaweed and covers beaches along Florida's Atlantic Coast.
Red Tide is a naturally-occurring microscopic alga that has been documented along Florida's Gulf Coast since the 1840's and occurs nearly every year. Blooms, or higher than normal concentrations of the Florida red tide alga, Karenia brevis, frequently occur in the Gulf of Mexico, according to the Florida Fish and Wildlife Conservation Commission (FWC).

The National Oceanic and Atmospheric Administration (NOAA), reports some red tide produces toxins that have harmful effects on people, fish, marine mammals and birds. In humans, the toxin can become airborne and varying levels of eye and respiratory irritation can occur, becoming more severe for those with pre-existing respiratory conditions, such as asthma. Even touching the bloom can cause a rash.  MOTE Marine Laboratory & Aquarium issues daily beach conditions from beaches along the Southwest coast and along the panhandle. Try checking their website before you head out for the day.
Toxic Algae Bloom
Red tide is not the only algae growing in Florida. Two years ago, some Florida waterways and beaches were afflicted by what many described as a green, slimy, rancid- smelling algae. Well…it's back. The Florida Department of Environmental Protection (DEP) reports the blue-green algae also known as cyanobacteria, typically develops in nutrient-rich lakes that contain high levels of phosphorous and nitrogen. High temperatures, warm water and abundant sunlight create ideal conditions for the toxic blooms to thrive.
Lake Okeechobee, the Caloosahatchee River and St. Lucie estuary are filled with the toxic algae as it continues to spread to Cape Coral and Ft. Myers. "Just cleaning up the water will not help, points out Buck with GreatFlorida Insurance, Florida's largest independent boat insurance agency. Both red tide and the blue-green algae are exacerbated by fertilizers and other pollution fed by runoff from the surrounding land.
The blue-green algae can cause skin rashes, nausea, respiratory issues, cramps, diarrhea and vomiting. Long term conditions include; liver, kidney and nervous system damage.
Governor Rick Scott declared a state of emergency this week for seven counties around the lake to give state environmental and tourism agencies more resources to respond to problems caused by the algae. The order also authorizes flushing water south of the lake instead of down the rivers that run to the coasts.