"Being on the water, provides a sense of calm and clarity," says Ellsworth Buck, Vice President of GreatFlorida Insurance, Florida's leading independent boat insurance agency.
In his book, Blue Mind, Dr. Wallace J. Nichols, marine biologist, explains that being on, in or near the water improves creativity, emotional health and relaxation. It can also heal the mind and b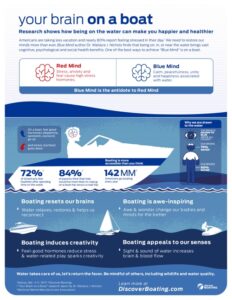 ody.
In the book, he describes the state of a "red mind" and its antidote, a "blue mind." A red mind is characterized by stress, anxiety and fear, whereas a blue mind is described as calm, peaceful and happy. A blue mind can be achieved by being in, near, on, under or around water. Such as being on a boat. He describes to Discover Boating, that a blue mind, gives our minds a break, it helps us to disconnect from tech and connect with our thoughts and insights as well as with other people.
Research shows walking on the beach, hanging out at the lake or even taking a dip in the pool can calm you down while sparking creativity. He shares with Huffington Post some additional benefits to being around water.
Water gives our brains a rest.
Water can induce a meditative state.
Water can inspire us to be more compassionate and connected.
Exercise by or in water is good for our brains and our bodies.
"These findings explain why we feel so much joy when boating," observes Buck with GreatFlorida Insurance, Florida's largest independent boat insurance agency.
Boat rental website, Carefree Boat Club, explains that boating allows you to create bonding experiences and enjoy memories with family and friends. They report, according to studies, boaters respond to stress or stressful situations in a manner better than non-boaters.
So, the next time you are debating that fishing trip or all-day outing at the beach, remember, it can benefit your health, body and mind.