Hurricane Michael was the 3rd most powerful storm to hit the U.S. The storm quickly escalated to a category 4 hurricane, making it the worst in almost a century. National Geographic reports, Michael had the three most critical characteristics for a hurricane to gain strength and make a big impact. Those include, warm waters, low wind shear (a change in wind speed or direction in a short distance) and a tight core, keeping the storm intact.
"In a span of 48 hours we watched the tropical storm grow to a worst-case scenario," recounts Ellsworth Buck, Vice President of GreatFlorida Insurance, Florida's largest independent homeowners insurance company.
While it has been a week since Michael made landfall, the impact was so devastating, crews are still searching for survivors in the hardest hit areas. Hundreds remain in shelters and over 100,000 are still without power. Many are dependent on food and water being air dropped to their areas. Bay county schools are closed indefinitely for over 26,000 students. Cell phone service is spotty, and it is difficult to fill a gas tank. To support victims, Verizon announced it would give a three-month credit to every Verizon customer in Bay and Gulf counties.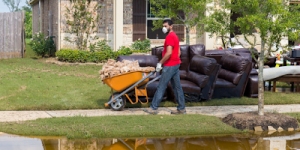 The Florida Division of Emergency Management has established a website, floridadisaster.org, for storm victims, as an information hub. The website includes a list of open shelters, instructions on how to apply for disaster assistance, emergency supply distribution locations, updated curfews for each county, family reunification, boil water notices, debris reporting, insurance resources, available gas stations, power outage details, school closures, traffic, weather, a list of open camping areas, rumor control and more.
"At GreatFlorida Insurance, we are making every effort to provide our customers with a quick response so they can piece their lives back together," says Ellsworth Buck Vice President of GreatFlorida Insurance, Florida's top independent homeowners insurance company.
Gov. Rick Scott, issued an emergency order that ensures additional protections to Florida insurance policy holders. According to the Insurance Journal, the order requires that insurers perform the following.
Freeze any rate hikes for 90 days.
Provide an additional 90 days to policyholders to supply required information to their insurance company.
Rescind for 90 days, all non-renewals or cancellations issued to policyholders in the days leading up to Hurricane Michael. This gives policyholders 90 days to either renew their insurance policy or find a new insurance policy.
For those interested in helping financially, Charity Navigator has highly rated the following charities. They will help by providing food, shelter, medical care and other necessities to victims of the storm.
Team Rubicon, https://teamrubiconusa.org
Samaritan's Purse, https://www.samaritanspurse.org
All Hands and Hearts- Smart Response, https://www.allhandsandhearts.org/programs/hurricane-michael-relief/
Direct Relief, https://www.directrelief.org/emergency/hurricane-michael/
Many good Samaritans have packed up trucks with food and supplies to come and aid storm victims utilizing their own resources.