"There are several product recalls this summer from food-borne illnesses, "says Ellsworth Buck, Vice President of GreatFlorida Insurance, Florida's largest independent homeowners insurance agency.
Recalls include a large nation-wide recall due to a major salmonella contamination in the produce department. Read on for further details to keep you and your household safe.
Onions
The U. S. Food & Drug Administration (FDA) is analyzing samples collected at Thomson International which has recalled all red, white, yellow and sweet yellow onions shipped to all 50 states and the District of Columbia. The onions are being linked to a Salmonella outbreak that has sickened 510 people.
The Mayo Clinic reports Salmonella symptoms include, nausea, vomiting, abdominal cramps, diarrhea, fever, chills, headache and blood in the stool. Most healthy people recover within a few days without specific treatment. In some cases, dehydration can prompt immediate medical attention.
The onions are sold under the following brand names, Thomson Premium, TLC Thomson International, Tender Loving Care, El Competitor, Hartley's Best, Onions 52, Majestic, Imperial Fresh, Kroger, Utah Onions and Food Lion.
Peaches
A multi-state outbreak of salmonella infections is being linked to peaches. The peaches are packed or supplied by Prima Wawona or Wawona Packing Company. They are sold bagged, in bulk and loose. The peaches are distributed nationwide and sold at Walmart, Target, Aldi and elsewhere.
Also, discard peach salsa labeled as "Perfectly Peach Salsa." The Centers for Disease Control and Prevention (CDC) recommends, "If you cannot tell where your peaches are from, don't eat them. Throw them out."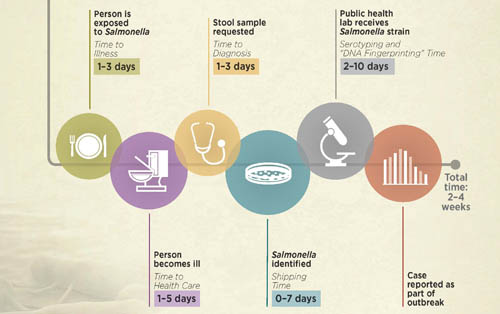 Soup
"Thankfully, some food recalls are not as life threatening as others, says Ellsworth Buck, Vice President of GreatFlorida Insurance, Florida's top independent homeowners insurance agency.
Case in point, thousands of cans of Progresso's Organic Chicken Noodle Soup, produced by Faribault Food Inc. are being recalled for a misbranding. Instead of chicken noodle, customers found a meatball and pasta product. The products were also reported to have undeclared allergens.
Affected cans have a best by date of "BestByMAY262022" printed on the bottom of the can and a best by date of "09JUN2022," printed on the product case.
Frozen Shrimp
Kader Exports, is recalling various sizes of frozen cooked, peeled and deveined shrimp due to possible salmonella contamination. The product has been distributed nationwide.
Frozen cooked deveined shrimp sold under the brand names Aqua Star Reserve, Censea, Fresh Market, Kirkland Signature (Costco), Tops, Unistar, and Wellsley Farms (BJ's Wholesale Club). For details on the specific products being recalled, check out the FDA website.
Pet Food
Three brands of dog food are being recalled. The pet food manufacturer Sunshine Mills has issued a voluntary recall of dog food products due to potentially high levels of aflatoxin, a byproduct of mold.
The FDA reports, "Pets that have consumed any of the recalled products and exhibit symptoms of illness including sluggishness or lethargy combined with a reluctance to eat, vomiting, yellowish tint to the eyes or gums, or diarrhea should be seen by a veterinarian."
The dog food in question is sold under the brand names Family Pet, Heartland Farms and Paws Happy Life.
The dog food was sold at retailers nationwide. The list of potentially hazardous products includes "Family Pet Meaty Cuts Beef Chicken & Cheese Flavors Premium Dog Food," "Heartland Farms Grilled Favorites Beef Chicken & Cheese Flavor," as well as "Paws Happy Life Butcher's Choice Dog Food."
Consumers who have purchased any of the recalled products should discontinue use of the products and may return the unused portion to the place of purchase for a full refund.
For dependable homewoners insurance contact GreatFlorida Insurance today.