After years of declines, car thefts are on the rise. The reason for the increase, a combination of carelessness and technology.
"Car thieves are sly and too often a driver's inattentiveness is a lure for theft," says Ellsworth Buck, Vice Resident of GreatFlorida Insurance, Florida's top independent car insurance agency.
The National Insurance Crime Bureau reports a steady increase in 2017, 2018 and 2019 of cars stolen with the keys or key fobs left inside. The surge is happening in cities and suburbs across the country. Florida has the second highest incident rate in the country.
Cars are left vulnerable when they are not turned off, or the key fob is left in the car, or the key fob is in the vicinity.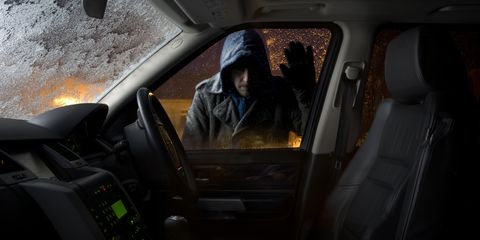 "Many key fobs are mistakenly left in the car cup holder," says Ellsworth Buck, Vice President of GreatFlorida Insurance, Florida's largest independent car insurance agency.
However, carelessness is not always to blame. Key fobs were intended to increase security, significantly reducing car thefts. But now, the protective measure is easily used against drivers.
Popular Mechanics explains, "Keyless ignition systems come with a fob that transmits a unique low-frequency signal to the car's computer system, which then validates that the correct signal has been sent and allows you to push a button on the dashboard or console to unlock the doors and start the engine."
When the key fob is too close to the car, even in the house, thieves use technology to copy and transmit the signal and drive off with your car.
Aside from doing a better job keeping track of your key fob, Popular Mechanics recommends simple gear to keep your car safe and stay protected from theft.
Place keys in your refrigerator, freezer or microwave (don't cook them) to block the radio signal.
Wrap them tightly in tin foil to keep the signal from getting out.
Store them really far from your car.
Remote and smart key fobs can be protected with RFID (radio-frequency identification) signal blocking cases also. This is the same as the RFID wallet and accessories that help protect chipped credit and debit cards from theft. You can purchase an RFID case or sleeve from Amazon.
Also available online, is a key fob protector or Faraday cage which blocks all electromagnetic fields.
GreatFlorida Insurance can keep you protected with the right car insurance, contact us today.