Last year there were 8,625 motorcycle crashes and 583 motorcycle fatalities in Florida. "Cyclists tend to be vulnerable on the road because they are hard to see," says Dustyn Shroff, Vice President of GreatFlorida Insurance, Florida's leading independent motorcycle insurance agency.
The Florida Department of Highway Safety and Motor Vehicles (FLHSMV) and the Florida Highway Patrol (FHP) are launching their "Share the Road" campaign, as May is Motorcycle and Bicycle Safety Awareness Month.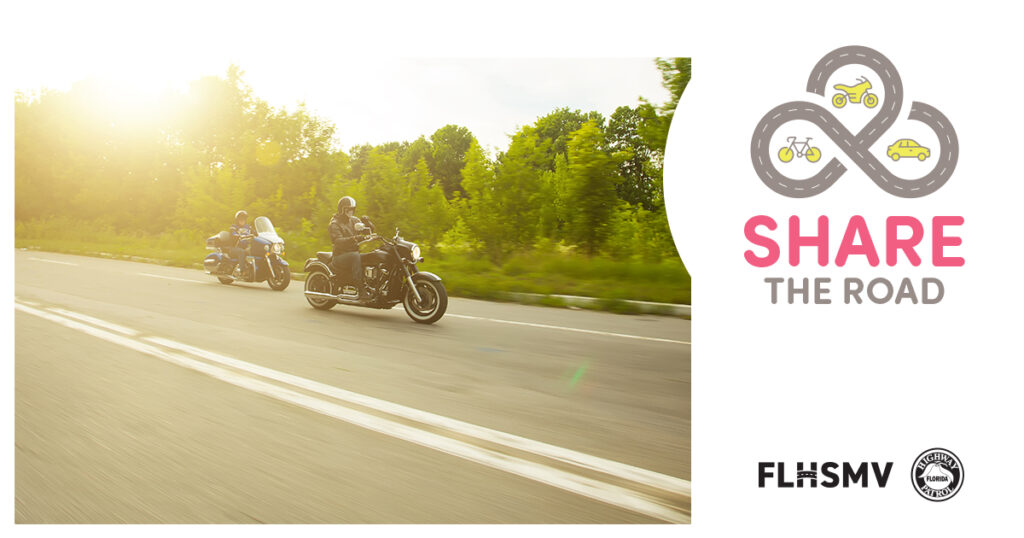 Rules for Motorcyclists
Under Florida law, motorcyclists must wear eye protection and U.S. Department of Transportation-compliant protective head gear or helmet. Motorcyclists over the age of 21 can only ride or operate a motorcycle without a helmet if they have proper insurance coverage.
To obtain a motorcycle endorsement on their driver license or a Motorcycle Only license, motorcyclists must complete an approved motorcycle safety course.
Motorcycles and mopeds may not be operated on bicycle paths or foot paths.
Tips for Motorists
Never attempt to share the lane with a motorcycle. The motorcyclist is entitled to the entire lane.
Watch for motorcycles and look carefully before pulling into an intersection or changing lanes.
It is difficult to gauge the speed of a motorcycle; they may appear to be much farther away than they really are.
Do not follow too closely behind a motorcycle; motorcycles have the ability to stop more quickly than other vehicles.
Motorcyclists often slow down by down-shifting or rolling off the throttle, thus not activating the brake light.
Never pass a motorcyclist with only a few feet of space. The force of the wind gust can cause the rider to lose control.
When being passed by a motorcycle, maintain your lane position and do not increase your speed.
Maintain a four-second buffer zone between you and a motorcyclist, and increase space when encountering inclement weather, gusty winds, wet or icy roads, bad road conditions and railroad crossings.
"As the weather gets warmer, drivers need to be aware of the presence of more cyclists on the roads," says Dustyn Shroff, Vice President of GreatFlorida Insurance, Florida's top independent motorcycle insurance agency.
In June 2021, Governor Ron DeSantis signed SB 950 into law. The new legislation aims to make roads safer for bicyclists and pedestrians. The law, which went into effect on July 1, 2021, includes several new guidelines to help curb dangerous situations:
No-passing zones do not apply to drivers who safely, and briefly, drive to the left of center of the roadway to overtake a bicycle, electric bicycle, other non-motorized vehicle, or a pedestrian.
A vehicle making a right turn while overtaking and passing a bicycle that is proceeding in the same direction may do so only if the bicycle is at least 20 feet from the intersection.
Bicyclists riding in groups, after coming to a full stop, may go through an intersection in groups of 10 or fewer, and riders may ride two abreast if certain conditions exit.
The law defined the terms "bicycle lane" (any portion of a roadway or highway which is designated by pavement markings and signs for preferential or exclusive use by bicycles) and "separated bicycle lane" (a bicycle lane that is separated from motor vehicles by a physical barrier).
Motorcycle and moped drivers have the same rights and duties as drivers of motor vehicles.
Riding without motorcycle insurance is risky, contact GreatFlorida Insurance to find out more information and take the first steps toward ensuring you, your bike, and your passengers.