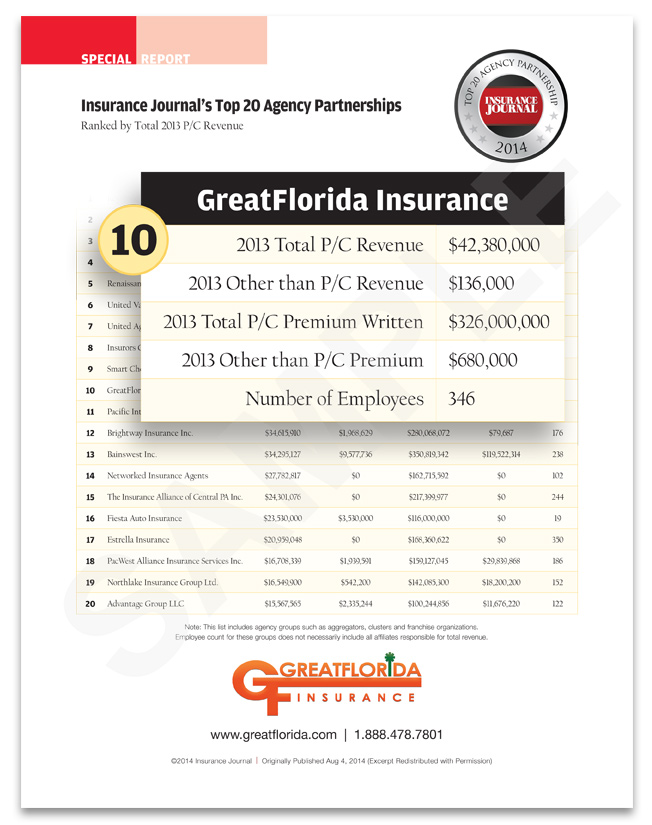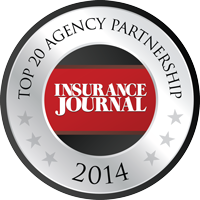 GreatFlorida Insurance has been ranked number 10 by the Insurance Journal as a Top 20 Insurance Agency Partnership in the United States.
The ranking is based on total property and casualty revenue reported in 2013. Great Florida Insurance earned over $ 42 million last year giving it the highest rating of any insurance agency on the list located in Florida.
"This rating adds credibility to GreatFlorida Insurance. When the general public is looking to invest their money and find quality insurance they feel more comfortable choosing a bigger, solid company that has a proven track record. It helps them feel more secure about the decision they are making," says Ellsworth Buck, Vice President of GreatFlorida Insurance.
GreatFlorida Insurance is a network of independent franchised insurance agents giving them the ability to offer their customers more options through a variety of insurance carriers.
They credit their success to their franchise owners, "Not to sound cliché but is about the people.  We look hard to find the right people, we are picky about who we select as franchise owners," says Buck.
A captive agent represents one insurance company giving them restricted access to insurance policies. "GreatFlorida Insurance can provide benefits to those agents looking to move from being a captive agent," says Buck.
GreatFlorida Insurance maintains a relationship with the top insurance carriers across the U.S. Those relationships serve as an open door and offer greater options to Floridians.
"The list includes agency groups such as aggregators, clusters and franchise organizations all of which play an important role in the independent agency system today. The result is a glimpse at some of the nation's most successful privately-held independent insurance agencies and brokerages," reports the Insurance Journal.
For more information about this quality insurance agency, please call (888-478-7801) or visit their website at