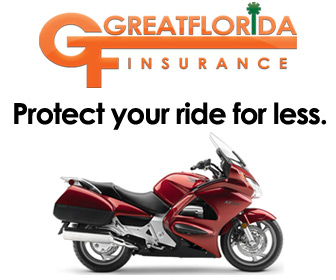 Recent fatalities are renewing the interest of GreatFlorida Insurance regarding motorcycle safety. This year alone there have been a number of motorcycle fatalities including several out of state visitors and two active-duty military service members. Accidents have ranged from a spool of wire breaking loose from a passing truck and striking cyclists, collisions with other vehicles, a biker striking a raised median and wet grass.
With the approach of Daytona Beach Bike Week, March 7-16, when an estimated over 500,000 bikers are expected to arrive, motorcycle safety is vital.
"Ideal weather and scenic views make Florida a great place to ride motorcycles. We want every biker to enjoy the adventure of riding. Knowledge of motorcycle safety will create responsible riders," says Ellsworth Buck, Vice President of GreatFlorida Insurance.
The following are safety tips to help motorcyclists make the most of their ride.
Proper License
There are two types of motorcycle license in Florida. If you currently have a Florida driver's license, you can apply for a motorcycle endorsement to your current license. The other option is a Motorcycle Only license. All first time motorcycle license or endorsement applicants must complete a Basic Rider Course, (BRC), through the Florida Rider Training Program.
Helmet
The National Highway Traffic Safety Administration reports a rider without a helmet is 40 percent more likely to suffer a fatal head injury than a rider with a helmet involved in a crash. Florida requires all cyclists under 21 to wear a securely fastened helmet. Riders over the age of 21 choosing not to wear one must be covered by an insurance policy with the minimum of $10,000 in medical benefits for a helmet exemption.
Protective Gear
Florida requires eye protection to be worn by all riders. Wearing protective eye gear will keep dirt, insects, rocks and other airborne matter from obstructing your vision and harming your eyes. Select scratch free, shatter proof and well ventilated eyewear to prevent fog buildup. Your extremities are exposed when on a motorcycle. Durable boots or athletic shoes covering the ankle are a wise choice for footwear. Avoid dangling shoe laces.  Tight fitting, leather gloves will allow you to grip controls while protecting your hands. Sturdy pants and jackets made specifically for riding will offer the most protection.
Make Yourself Visible
Reflective stickers on your bike, jacket and helmet will make you more visible to drivers during the day and night. A reflective vest and bright clothing and a bright helmet will also help you get noticed.
GreatFlorida Insurance gives you the true freedom to ride.  We can create a custom motorcycle insurance policy for you regardless of the type of bike you ride. Call 888-478-7801 or complete our online request form at www.greatflorida.com and our agents will help find the best deal for you.