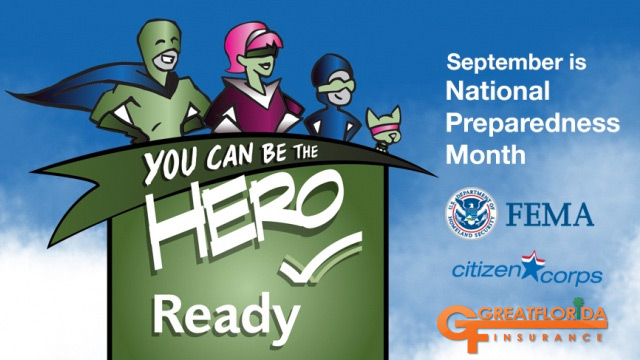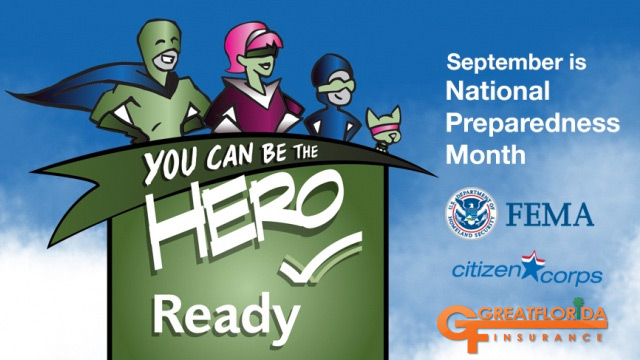 September 2014 is National Preparedness Month. It is sponsored by the Federal Emergency Management Agency, (FEMA) and the U.S. Department of Homeland Security.
Their goal is to educate the public on how to prepare for emergencies. It was created after September 11 to increase awareness and encourage action for emergency preparedness nationwide.
The theme this year is, "Be Disaster Aware, Take Action to Prepare." The campaign focuses on being informed, making a plan, building a kit and getting involved.
"The insurance industry revolves around being prepared. At GreatFlorida Insurance we are not interested in scaring people, we want to educate them on the value of being ready for the unexpected. You can be assured situations are going to happen throughout life and making a plan will help these events be less traumatic when they occur," says Ellsworth Buck, Vice President of GreatFlorida Insurance.
September is also the peak of hurricane season. As predicted, it has been a quiet storm season this year but being prepared does not hurt.
Hurricane season continues until November 30. You do not want to be caught off guard by a rapidly approaching storm that will leave you scrambling for supplies at the store with all your neighbors at the last minute.
Potential adversities can range from natural disasters, blackouts, hazardous chemical incidents and terrorist attacks. Organizing a family plan is the best place to begin. FEMA suggests addressing three points when making a family plan, who to call, where to meet and what to pack.
Get your entire family involved in the decision making process so they understand and become familiar with the routine. If you are not together when disaster strikes plan how you will communicate with one another, how will you get to a safe place and how you will get back together.
Review the emergency plan of places you spend time such as work and school.
If you do not have an emergency kit prepared, it is wise to get one together. Consider making one to keep in your car and one at home. Begin with the essentials:
        Water-rule of thumb is one gallon per person per day for 3 days
        Food-non-perishable items for at least 3 days for each person
        A battery powered or hand crank radio
        Flashlight with extra batteries
        First aid kit
        Multi-purpose tool, such as Swiss Army knife
        Personal hygiene items
        Plastic bag for trash
        Map of your area
        Medications
        A copy of important documents- birth certificates, passport, insurance policies, etc.
        Blanket
        Emergency contact information
        Cell phone and charger
Try to always keep at least half a tank of gas in your car in case you need to hit the road in hurry and some cash on hand or in your emergency kit.
These are the minimum recommendations; additional items include a whistle, matches in a waterproof container, surgical masks, plastic sheeting and extra clothes. Further detailed information is provided at ready.gov, the CDC and the American Red Cross.
When you need protection against life's unforeseen events, GreatFlorida Insurance is here for you. Although we cannot prevent accidents and disasters our goal is to help Floridians have protection in place when situations occur.
Our personal and knowledgeable insurance agents can help you find the most affordable auto, home, business, boat, renter's and health insurance as well as an umbrella policy.
Visit us online at www.greatflorida.com or call us at 888-478-7801.