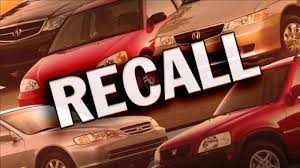 Since the beginning of 2014, an unprecedented and alarming number of vehicles have been recalled. According to the National Highway Transportation and Safety Administration (NHTSA), over 55 million cars and trucks have been identified as having a critical defect.
"At GreatFlorida Insurance, we are encouraging all car owners to get online to see if there have been any recalls on their vehicle. You might have checked your car a couple of months ago but the government and automakers are almost daily adding cars to the list of recalls."
"It is in you and your family's best interest to stay on top of the latest information, it could really be a matter of life and death," urges Ellsworth Buck, Vice President of GreatFlorida Insurance.
Just this week, the NHTSA released a consumer advisory adding 7.8 million more vehicles with faulty airbags to the list. They are advising those car owners who have received a recall notice to "act immediately" and get their vehicles fixed.
Airbags are rupturing and spewing metal shrapnel into drivers and passengers. High humidity seems to amplify the problem. This flaw has caused three deaths including a woman from Florida and dozens of injuries.
Responsible for the recall is Takata, a Japanese auto part maker that supplies to multiple automakers globally. Ford and Nissan believe software is to blame for their air bag deployment issues while GM thinks the problem is a result of an electrical problem with the sensors connected to their faulty ignition problems.
Other carmakers with airbag deployment recalls include Mazda, Honda, Subaru, Mitsubishi, Chrysler, Toyota, and BMW. The problems extend to cars that have been on the road since 2000.
The influx of vehicle recalls has been made since Toyota was ordered to pay $1.2 billion in March, the largest criminal penalty for any automaker in the U.S.
Cars have been recalled for a number of issues such as electrical shorts, damaged gears, coolant pump, faulty alternator, poor tire tread, parking brakes, hood latches, stalled engine and faulty ignition switches.
To find out if your car has been included in a recall, use the following link and have your vehicle identification number available. Information specifically regarding recalls for Takata airbags has been experiencing temporary outages, so check the list below.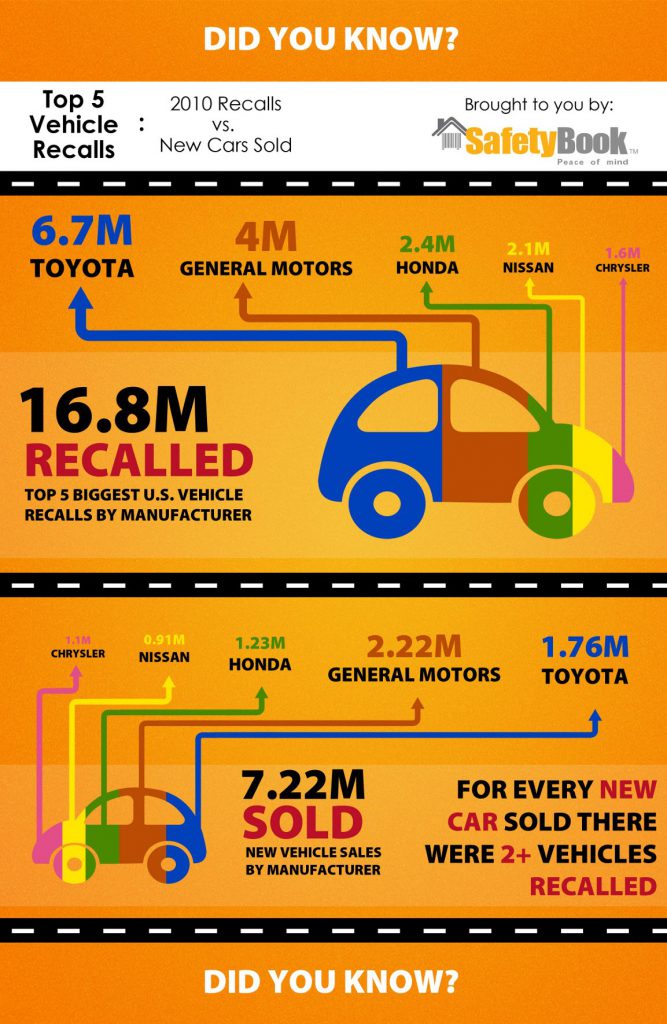 http://www.safercar.gov/Vehicle+Owners/vin-lookup-sites
Takata Airbag Recalls
BMW: 627,615 vehicles
2000-05 3-series sedan
2000-06 3-series coupe
2000-05 3-series sports wagon
2000-06 3-series convertible
2001-06 M3 coupe
2001-06 M3 convertible
Chrysler: 371,309 vehicles
2003-08 Dodge Ram 1500
2005-08 Dodge Ram 2500
2006-08 Dodge Ram 3500
2006-08 Dodge Ram 4500
2008 Dodge Ram 5500
2005-08 Dodge Durango
2005-08 Dodge Dakota
2005-08 Chrysler 300
2007-08 Chrysler Aspen
Ford: 58,669 vehicles
2004 Ranger
2005-06 GT
2005-07 Mustang
General Motors: Undetermined total number vehicles
2003-05 Pontiac Vibe
2005 Saab 9-2X
Honda: 5,051,364 vehicles
2001-07 Honda Accord
2001-05 Honda Civic
2002-06 Honda CR-V
2003-11 Honda Element
2002-04 Honda Odyssey
2003-07 Honda Pilot
2006 Honda Ridgeline
2003-06 Acura MDX
2002-03 Acura TL/CL
2005 Acura RL
Mazda: 64,872 vehicles
2003-07 Mazda6
2006-07 MazdaSpeed6
2004-08 Mazda RX-8
2004-05 MPV
2004 B-series truck
Mitsubishi: 11,985 vehicles
2004-05 Lancer
2006-07 Raider
Nissan: 694,626 vehicles
2001-03 Nissan Maxima
2001-04 Nissan Pathfinder
2002-04 Nissan Sentra
2001-04 Infiniti I30/I35
2002-03 Infiniti QX4
2003-05 Infiniti FX
Subaru: 17,516 vehicles
2003-05 Baja
2003-05 Legacy
2003-05 Outback
2003-05 Baja
2004-05 Impreza
Toyota: 877,000 vehicles
2002-05 Lexus SC
2002-05 Toyota Corolla
2003-05 Toyota Corolla Matrix
2002-05 Toyota Sequoia
2003-05 Toyota Tundra