Floridians can finally enjoy the arrival of dry season. With it brings relief from oppressive heat and humidity along with cold fronts and cooler temperatures.
However, the Florida Forest Service also reminds us, drier days increase the chance for forest fires. So far in this year, 93,000 acres have burned across the state.
"Following fire-safe practices can protect your family and home," says Ellsworth Buck, Vice President of GreatFlorida Insurance, Florida's largest independent homeowners insurance agency.
To keep you and your home safe during these drier days, below are some tips.
Clear out dry vegetation-get ride of pine needles, dry leaves, dead palm fronds, dead sticks and twigs in your yard.
Don't forget the roof-remove dry vegetation from the roof and clear out your gutters. Eliminate any overhang from trees as well. Cut any tree branches within 10 feet of your roof.
Mowing-cut dry weeds and grass before noon when temperatures are cooler.
Pick-up-keep woodpiles, propane tanks and combustible materials away from your home, garage or shed.
Water!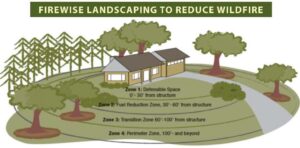 "To take your home protection a step further, the Florida Forest Service recommends creating a defensible space around your home," says Ellsworth Buck, Vice President of, GreatFlorida Insurance Florida's top independent homeowners insurance agency.
A defensible space, is Fire Wise landscaping. It increases the likelihood that your home will survive a wildfire even in the absence of firefighters. The U.S. Forest Service explains, Fire Wise landscaping is designed to minimize the spreading of a forest fire.
Your yard is split in four zones. Each zone represents a certain amount of space that extends from your home.
Zone 1, 0-30 ft. "defensible space"-plant nothing flammable against your home.
Zone 2, 30-60 ft. "fuel reduction"-use raised beds, stone walkways and patios.
Zone 3, 60-100 ft. "transition zone"-driveways within this zone provide a break.
Zone 4, 100 ft. + "perimeter zone"-even at a distance, it is important to maintain vegetation.
GreatFlorida Insurance offers homeowners insurance to fit your budget and your needs. Give us a call or go online for a quote today.