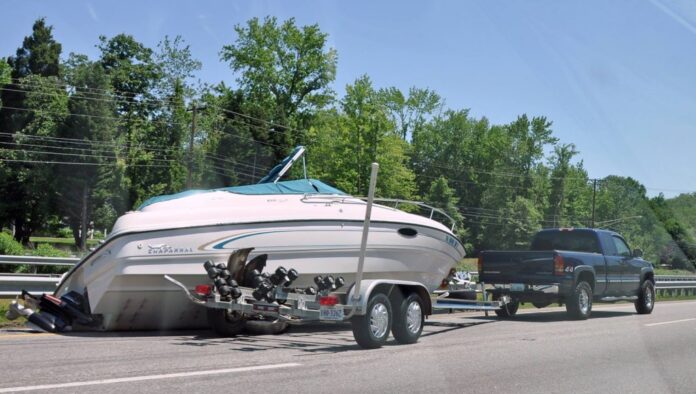 "Towing a boat may seem simple but it requires more than getting a trailer and hitch," says Ellsworth Buck, Vice President of GreatFlorida Insurance, Florida's top independent boat insurance agency.
Improper towing can lead to tipping, unattached cargo and cause serious damage to suspension and braking systems as well as strain to your engine and transmission.
Make sure to avoid common boat towing mistakes before hitting the road. Below are tips from goboatingflorida.com.
Disconnected brake lights
Always check the electrical connector to make sure your brake lights, taillights and turn signals are all working. Have someone behind the boat while you tap the brakes and use turn signals to make sure they are working. Keep an extra trailer light bulb in your vehicle in case the light goes out. Keeping the electrical wires taut at the right length will stop them from dragging on the ground and disconnecting during turns.
Forgetting about what's in tow
No matter how strong your tow vehicle is, it will be less responsive once a trailer is behind it. You won't be able to accelerate, turn or brake as fast, so be sure to look up the road and give yourself extra time and space to change lanes or slow down.
"It's a good idea to take a practice run before you hit the road," says Ellsworth Buck, Vice President of GreatFlorida Insurance, Florida's largest independent boat insurance agency.
Ignoring your vehicles tow specs
Before you plan a trip, it's crucial to know how much your vehicle is rated to tow. Don't forget it isn't just about how much your boat weighs, it also includes how much gear and fuel you have inside the boat. Even if you've checked the weight limit, always keep an eye on your tire pressure and temperature gauge. Installing a weight distribution bar system can help smooth out the ride and properly tow up to your vehicle's max capacity. It's natural to assume that bigger is better but check your tongue weight before purchasing the bars. When you've set this up properly the load bars will be parallel with the frame of the trailer. If you notice excessive bouncing between your vehicle and trailer, your setup may be incorrect.
Using the wrong size ball hitch
It's important to use the properly rated hitch ball for your towing system. Boat supply store, West Marine, explains, "The coupler mounts and locks on top of the hitch ball and articulates around the hitch ball. Recreational and light commercial hitch balls come in a variety of sizes including 1 7/8″, 2″, 2 5/16″ and infrequently, 3″. Lighter trailers generally use smaller hitch balls. The diameter of hitch balls is fairly standard, but shank diameters and the hitch ball weight ratings may differ. The rating of the hitch ball is just as important as the receiver hitch rating."
Failing to secure gear
Make sure to secure fishing and ski equipment, life vests, seat cushions and coolers before heading out. Fasten down anything vulnerable to blowing out of your boat while traveling down the road.
Contact GreatFlorida Insurance today to get a quote for boat insurance today. Our offices are located throughout Florida for your convenience.