"Proper disposal of medications can prevent drug addiction and overdose deaths," says Ellsworth Buck, Vice President of GreatFlorida Insurance, Florida's leading independent health insurance agency.
According to the 2016 National Survey on Drug Use and Health, most abused prescription drugs were obtained from family and friends. They usually come from the home medicine cabinet.
The best way to dispose of expired or unused medication is through the Drug Enforcement Administration (DEA) sponsored, National Prescription Drug Take Back Day. They seek to provide an anonymous, convenient and responsible means of disposing of prescription drugs. Saturday, April 27, will be the next National Prescription Drug Take Back Day.
The DEA reports, the last take back day brought in more than 900,000 pounds of unused or expired medication.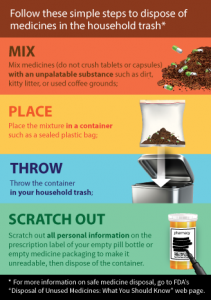 Responsibly getting rid of unwanted medications can protect you, your family and the environment, reports the Environmental Protection Agency (EPA).
It prevents the poisoning of children and pets.
Deters misuse by teens and adults.
Avoids health problems associated with taking the wrong medicine, or medicine that is too old and no longer effective.
Keeps medicines from entering streams and rivers.
In homes that use septic tanks, prescription and OTC drugs flushed can leach into the groundwater. In areas with wastewater treatment plants, prescription and OTC drugs poured down the sink or flushed can pass through the treatment system and enter rivers and lakes. They may flow downstream to serve as sources for community drinking water supplies. Water treatment plants are generally not equipped to routinely remove medicines.
However, the Food and Drug Administration still recommends flushing Oxycodone, Fentanyl, and a couple of dozen other drugs, so they cannot be fished out of the trash.
"Those medications are considered a lethal threat to others," says Ellsworth Buck, Vice President of GreatFlorida Insurance, Florida's top independent health insurance agency.
The following link provides a  list of medications to be flushed.
If you cannot make it to the next National Prescription Drug Take Back Day, some Walgreens and CVS locations, have a kiosk to dispose of unwanted medications.
To dispose of medications at home, use the following instructions:
Mix medicines (do not crush tablets or capsules) with an unpalatable substance such as dirt, cat litter, or used coffee grounds
Place the mixture in a container such as a sealed plastic bag
Throw the container in your household trash
Delete all personal information on the prescription label of empty pill bottles or medicine packaging, then dispose of the container.
GreatFlorida Insurance has experienced agents that can offer you and your family quality health insurance policies to fit your needs. Call us at 888-478-7801 or go online to www.greatflorida.com for a free quote today.