Football season is here. Let the time-honored tradition of the pregame party begin.
"Football rivalries and tailgating occur throughout the state whether you are in Gainesville, Tallahassee, Jacksonville, Tampa, Orlando or Miami," says Ellsworth Buck, Vice President of GreatFlorida Insurance, Florida's top independent auto insurance agency."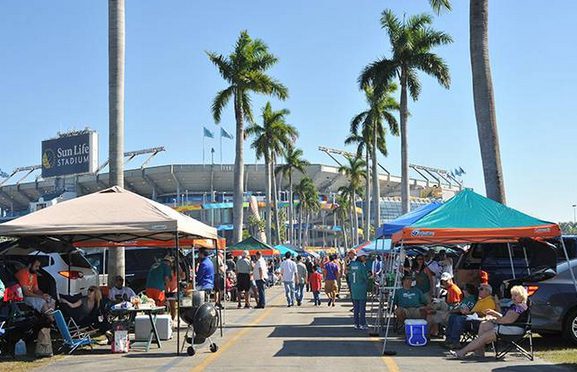 The following are some pro tips to make your tailgate a success.
Plan ahead. Organization and preparation will get the party started quicker. Night before preparation will save a lot of time and give the host time to enjoy the party.
Flaunt your team spirit. Team colors and logos should be a prominent part of your party. Show off team décor on your tablecloths, plates, chairs and tent.
Keep the menu simple. Simple does not mean boring. Fingers foods are easier to eat when standing, than those that require a knife and fork.
Bring more than one cooler. Keep separate coolers for food and drinks. A drink cooler will be opened more often allowing cool air to escape. Also, if there is a food spill, it won't get on your drinks.
Be mindful of loading up. Experts at USA Today recommend packing your grill up last, making it the first thing out of the vehicle when you arrive, so you are ready to go.
Entertainment. Of course, you are there for the game, but every party needs music or live sports, so don't forget the Bluetooth speaker.
Games. While waiting for the main event, have some games on hand such as drink pong, corn hole, ladderball or a football to toss around.
Watch the clock. Allow plenty of time for unpacking and packing back up before the game starts.
"Be sure to leave your grill plenty of time to cool off before placing it back in the car, or you could a have real problem, says Ellsworth Buck, Vice President of GreatFlorida Insurance, Florida's largest independent auto insurance agency."
Mind your manners. Thrillist has suggestions for proper tailgating etiquette, if you want to be invited back to the party. Don't sit on the drink cooler, don't be a freeloader and pull your weight with cooking and cleaning.
Make nice. Introduce yourself to your neighbors, no matter what team they are supporting.
Be sure to have fun and enjoy yourself!
GreatFlorida Insurance covers all your auto insurance needs with competitive pricing. Contact us today.