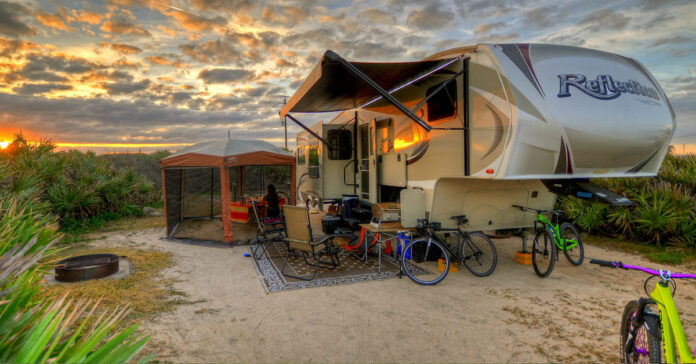 The coronavirus has disrupted spring breaks to summer vacations. "Peak travel seasons have been met with stay at home orders, says Ellsworth Buck, Vice President of GreatFlorida Insurance Florida's top independent RV insurance agency.
Travel plans are changing from flights across the country or overseas, to road trips. The only travel industry currently prospering is camping. Reopened campsites and RV parks are filling up fast, seeing a surge in reservations. And, sales of RVs are spiking in the wake of the pandemic, giving rise to "COVID Campers."
FoxBusiness says, "Recreational vehicle dealers throughout the country have had as much as a 170 percent increase in sales for the month of May compared to this time last year as Americans crave outdoor travel as coronavirus-induced lockdowns ease in states, according to the RV Industry Association."
In fact, Kiplinger reports in May, shares of Camping World Holdings (CWH) surged 35 percent after reporting first-quarter earnings that blew past analysts' estimates.
The appeal of traveling in an RV is due to several factors and changes regarding travel. Many industry experts believe, it is likely fueled by pent-up demand to go vacationing after spending months of sheltering in place.
"Traveling in an RV can allow travelers to safely visit their family while visiting other parts of America," says Ellsworth Buck, Vice President of GreatFlorida Insurance Florida's largest independent RV insurance agency.
Being in an RV is also considered a safer way to travel since it is self-contained. Numerous travelers are wary about staying in a hotel. This self-contained way to travel is appealing to people. They have control over the environment and the cleanliness of their accommodations. Camping in an RV naturally lends itself to social distancing as well. And campers also have control over food preparation.
Lower gas prices the past few months are also adding to the appeal of being on the road. However, as states begin to reopen, expect to see gas prices begin to increase.
If you decide to join the millions who own and RV, contact GreatFlorida Insurance for auto insurance and RV insurance today.