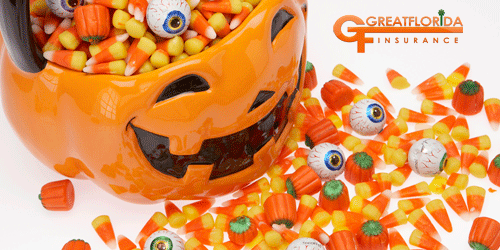 GreatFlorida Insurance wants all Floridians to enjoy Halloween parties, trick-or-treating and harvest festivals this weekend. Being safe will prevent disruptions from ruining the celebration. Below are some guidelines, common sense reminders and helpful information to keep the fun in your festivities.
Home
Whether your home is decorated to be chic, spooky or terrify the neighbors, you want to guarantee it is safe for all visitors.
Clean up and make sure to have a clear path to your door. Pick up leaves, debris and garden hoses, toys and bikes so trick-or-treaters do not trip.
Turn on your outdoor lights and make sure to replace burned out bulbs.
If you plan to leave your home, be sure to look around for children before getting into your car.
Pets
Halloween can be a stressful night for your pets. Children are dressed in costumes and excited running all over the neighborhood and constantly coming to your door. To keep your pets from becoming anxious the following tips can help.
Do not leave your pets in the yard, they can frighten children and entice pranksters.
Keep your animals confined and away from the door.
Halloween candy is not for pets, chocolate, especially dark chocolate can be toxic to dogs and cats.
Candy
Everyone loves to indulge in sweet treats but encourage your kids to hold off on the snacking while on the trail.
While tampering is rare, it is a good idea to look through your child's loot after trick or treating especially if your child has food allergies. Toss anything that is not sealed, has torn packaging or looks questionable.
Ration the candy, usually kids get much more candy than they will eat or need. Suggest a candy trade such as a handful of treats for a book or date with mom and dad.
Costumes
Dressing up is the heart of Halloween.  Whether you are an adult or child the following guidelines will help you get maximum enjoyment from your costume.
Make sure the costume fits properly to prevent trips and falls.
Try using non-toxic face paint and make-up instead of masks to make sure vision is not restricted. If you use a mask, make sure the eyes and nose holes are large enough.
Have kids carry glow sticks or a flashlight so they can be seen. Using reflective tape on a costume or candy bag is also helpful.
Do not allow your kids to carry sharp or dangerous accessories with their costume.
If you or your kids are using decorative contact lenses as part of a costume, make sure to get them from a reputable eye center and try them out first.
Trick-or-Treat Trail
It is recommended to set ground rules before your kids head out.
Children under 12 years of age should have adult supervision.
Put down the phone. Parents need to be in the moment and pay attention. There are kids running everywhere and you do not want to lose them in the fun and chaos.
Stay on sidewalks and cross the street at corners and crosswalks and always look both ways before you cross.
Never go into a stranger's home.
Set a time limit for your older kids to be out and be familiar with their route.
Encourage kids to avoid shortcuts through alleys and backyards.
Motorist
Pedestrians are everywhere! Popular trick-or-treating hours are from 5:30-9:30pm. If you must drive between those times use caution. The Centers for Disease Control and Prevention (CDC), reports pedestrian driver accidents increase four times on Halloween.
If you plan to leave your home, try parking so you do not have to back out of a parking space.
Check behind your vehicle for little ones before you leave.
Drive especially slow.
Be prepared to stop at crosswalks and intersections.
Stay off electronic devices.
Halloween is a night of pranks, make sure to teach your children the difference between a prank and vandalism.