Every 44 seconds a car is stolen in the U.S. totaling an annual loss of $4 billion. In Florida the most popular car stolen is a full size Ford pick-up truck.
"Car thieves like to steal cars and car parts such as car batteries, catalytic converters and entrainment systems. Having comprehensive car insurance can help you sleep better at night because you know you are covered," said Ellsworth Buck, Vice President of GreatFlorida Insurance.
The National Insurance Crime Bureau, (NICB), has come out with a list of the top new and used stolen cars in 2013. Surprisingly, they report that older cars are stolen more often than new cars for their parts. The stolen vehicles are taken to chop shops and disassembled. Their parts are then sold online or to shady auto dealers.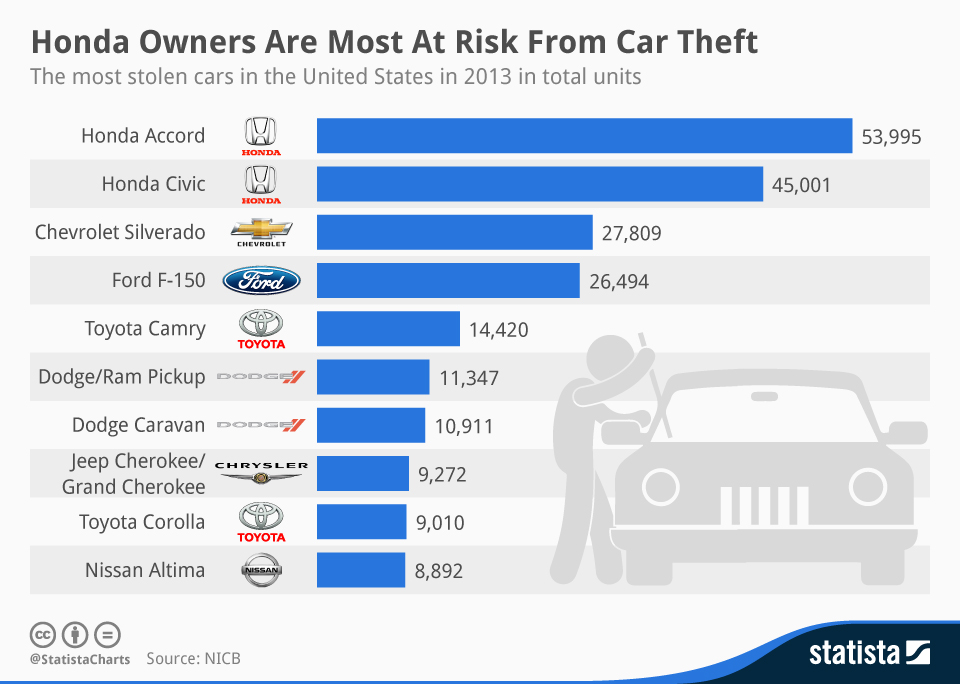 The 2013 top 10 list including all model years of vehicles stolen in the U.S.
Honda Accord
Honda Civic
Chevrolet Silverado
Ford F-150
Toyota Camary
Dodge Ram Pickup
Dodge Caravan
Jeep Grand Cherokee
Toyota Corolla
Nissan Altima
The top 10 list of 2013 model vehicles most commonly taken during 2013 in the U.S.
Nissan Altima
Ford Fusion
Ford F-150
Toyota Corolla
Chevrolet Impala
Hyundai Elantra
Dodge Charger
Chevrolet Malibu
Chevrolet Cruze
Ford Focus
Stolen newer cars are sold intact with doctored paperwork. Higher end vehicles are often shipped abroad for resale. While luxury cars are not the most popular to be stolen, the ones most commonly taken include the Mercedes C Class, BMW 3 series and the Infiniti G.
The number of stolen cars has declined over the years. Officials believe it is due to tougher laws and improvements in car technology such as computer-chip-coded keys and built-in engine immobilizers making it more difficult to hotwire a car and drive away.
When it comes to protecting your car, the NICB suggests taking a layered approach to protection. Cars are often taken because owners make it easy for them, to be stolen.
        Lock your car, roll-up windows, close the sunroof and take your keys when you are leaving your vehicle unattended.
        Park in a garage instead of the driveway and keep your vehicle in a well-lit and visible area.
        An anti-theft device such as the "Club" will deter thieves and may get you a discount on your car insurance.
        Have and use a visible or audible warning device.
        An immobilizing device such as "kill" switches, fuel cut-offs and smart keys are extremely effective.
        Tracking devices will emit a signal to the police, monitoring station or allow for remote monitoring when the vehicle is stolen. These devices are very effective in helping authorities recover stolen vehicles
Comprehensive car insurance can cover your vehicle in the event of a theft. If you are looking for peace of mind regarding your car contact GreatFlorida Insurance.
Our independent agents can help you find the right car insurance policy to cover theft and damage to your ride. Look us up online at www.greatflorida.com.