Holiday Spending Forecast
Holiday sales are likely to surpass the trillion dollar mark this year for the first time ever, according to eMarketer, a market research company. They anticipate a 5.8 percent increase compared to last year, marking the strongest growth in holiday spending since 2011. The surge in spending is attributed to low unemployment and strong income growth, translating into greater consumer confidence.
"With retailers anticipating more spending, shoppers can find plenty of deals," says Ellsworth Buck, Vice President of GreatFlorida Insurance, Florida's largest independent homeowners insurance agency.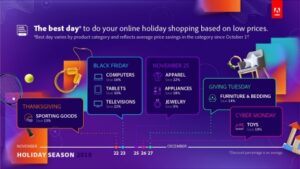 Thanksgiving Store Closures
So, can shoppers enjoy Thanksgiving Day, without feeling like they are missing out on a bargain? This year nearly 100 popular national and regional retailers will not be open on Thanksgiving Day. Website, bestblackfriday.com, has a comprehensive list of store closings, including, Costco, Publix, TJX Group (T.J. Maxx, Marshalls, HomeGoods) and Home Depot.
In a survey conducted this year, the website found 24 percent of Americans favor Thanksgiving openings, while over 47 percent dislike Thanksgiving openings. Bestblackfriday.com discovered the common theme of "family-time" cited as the reason most retailers remain closed on the holiday.
When to Purchase
However, closing one day still leaves plenty of days for shopping. "Planning ahead seems the best way to get the most for your money," says Ellsworth Buck, Vice President of GreatFlorida Insurance, Florida's leading independent homeowners insurance agency.
While many retailers are already offering great bargains, the biggest deals will most likely be found on Black Friday and Cyber Monday. However, will you still be able to find what are looking for if you wait until then? Adobe Analytics tracks online shopping and has come out with their annual holiday forecast. Their recommendations, if you have a specific item you want to purchase, buy it before Thanksgiving.
Adobe Analytics' findings include:
Best Days for Deals
11/22, Thanksgiving-sports goods
11/23, Black Friday-electronics (including tablets), TV's and computers
11/25, Sunday-apparel, appliances, jewelry
11/26, Cyber Monday-toys
11/27, Giving Tuesday-furniture and bedding